HIGH QUALITY FOR YOU. LOW IMPACT FOR THE PLANET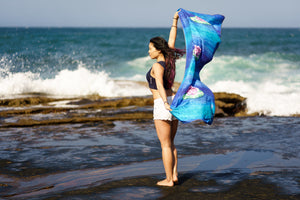 SUSTAINABILITY
Our products are safer for the environment and help to reduce waste.
Biodegradable natural rubber mats and microfibre towels, made of recycled plastic bottles.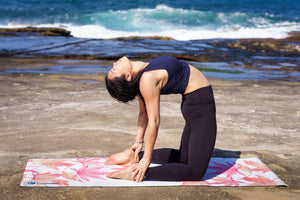 QUALITY
Functional products that are good for you and for your practice.
Non slip mats, great cushion and free from toxic chemicals. Lightweight towels, quick dry and with grip for yoga.
KNOW MORE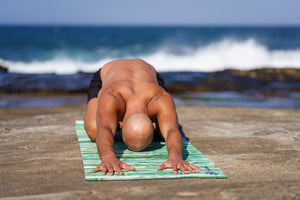 DESIGN
Our prints are original artworks, thought to inspire your wellness practice.
Unique watercolour designs that have been hand-painted by a local artist in Sydney, Australia.
Testimonials
"Loving my Autumn Leaves Yoga Mat. It's beautifully soft for my pilates practice but provides just the right amount of grip for my yoga practice. I use it every single day and so I highly appreciate that I can just throw it into washing machine whenever needed and it comes out sparkly clean".

Tatiana -Yoga & Pilates Instructor
"I've been using the bamboo mat for yoga and pilates and I absolutely love it. The rubber feels very soft and protects from the hard floor. The suede upper feels amazing, like a hug and eliminates the need for a towel. I use the mat in hot yoga and find the mat provides plenty of grip. Definitely one of the best, if not the best, yoga mat I have used and my mats get a very good workout".

Doro - Pilates Instructor
"It feels like velvet to touch. It is not slippery and provides a surprising amount of padding to the spine. If you are in the market for a new mat, look no further. Enjoy the beautiful designs knowing that you have picked a mat that is environmentally friendly and good for your body".

Joanne Bezzina - Pilates Instructor
The designs are all gorgeous. I love the fact that both the mat and towels are environmentaly friendly (...) The grip on the mat is fantastic, especially when you start to sweat a bit. I highly recommend them for someone looking for a new mat and towel, which is also very light weight. Thank you Canvasmat, very happy customer!

Aphrodite Roussos, Pilates practitioner-
Amazing yoga mats! Very comfortable, portable and with beautiful designs. Would highly recommend.

Laura & Alex - Northern Beaches' Yoga lovers